Home
»
Posts filed under Tips and Tricks
Although the Android operating system has many advantages, but there are still shortcomings. Disadvantages are generally complaining by the owners of Android mobile phone memory is full which is usually marked with the warning "Internal Phone Storage is Getting Low" or internal phone storage is low. The main explanation for the android phone's memory is full as a result of users install too many applications while not relevancy its internal memory capability. For the record, android application can use a lot of memory if it's put in. as an example you transfer 1 MB application from the android Market, then later once put in, the applying will be 1.5 MB or a lot of.

If the phone memory is totally depleted, in some cases even which will not accept incoming SMS and show a warning "Text-message memory full" or text message memory is full. If you click on details, it will be listed description "Incoming message rejected attributable to full memory" or messages (SMS and MMS) denied entry as a result of the memory is full.
If you are one of the Android mobile phone or tablet users who have problems phone memory is full, so in this article I will give you some tips to overcome them.
Requirement :
Install Link2sd as usually, you can install it from google play
Run Link2sd, it will as you to create mount point. select your second sdcard file system, if you ever format your sd-ext from cwm then it will be ext4. change Link2sd setting to autolink, don't change install location setting make it default. cause we need all application install on device memory.
Now when you install application this Link2sd will work and create link to your sdext (second partition of your sdcard). install as much as you can when you finish all installation go to step 4.
Open root explorer, navigate to /data/sdext2/ this is your sdcard second partition. in this folder there is 2 folder /data/sdext2/dalvik-cache and /data/sdext2/data. this structure is same with /data/dalvik-cache and /data/data.
so now i can assume like this :
/data/dalvik-cache --> /data/sdext2/dalvik-cache/
/data/data --> /data/sdext2/data/
/data/app --> /data/sdext2/
So find anything on /data/data/ that have size more then 1MB, move it to /data/sdext2/data/ and then create link and place it back to /data/data/. you can do this step using root explorer. if you done right you will get result like this


Linked Photobucket App

Repeat step 5 until you have enough free space on your device memory. on step 5 you can do with /data/dalvik-cache linked it to /data/sdext2/dalvik-cache, actually dalvik-cache should linked. you can linked system too like example /data/dalvik-cache/system@app@Phonesky.apk@classes.dex it have 4.91 MB, you can move it too. and create link to it.
Note :
This trick can make your application won't run, or even your phone won't work but if you do with careful i am guarantee this tricks can give you enough free space on your device memory. please do this with your own risk failure on this trick will make you re flash your phone.
Overview
There is one that i miss when i am using
AOSP ICS RC2 from Maclaw
, i miss
cyanogenmod ringtones.
now i found a website that provide
cyanogenmod ringtones
. but with this article i am gone show you how to add
cyanogenmod ringtones
on your
AOSP ICS
installation but i think this tutorial can be used for another custom rom or maybe stock rom.
first visit zedge.net on ringtones section, you can do this with your computer or with your mobile device, if you using your computer to visit and download then you need to move to your mobile device. for me i prefer using mobile device to open and download, on this website you can search your favorite ringtones after you found it download it.

zedge.net

open root explorer, visit installing root explorer if you don't have one on your mobile device. with root explorer move, copy that ringtones from /sdcard/download to /system/media/audio/ringtones


| | | |
| --- | --- | --- |
| | | |
| /sdcard/Download | | /system/media/audio/ringtones |
Note :
Remember using root explorer can make you delete your system files, so do it with your own risk.
Overview
link2sd tutorial, many people like using
link2sd
to help their device memory, with no exception
Samsung Galaxy Gio
user. Alternate is using
simple2ext
. In my opinion they both are great applications, however before i found this way i rather like simple2ext because it give me more space in internal memory than link2sd. with this way you can have 100Mb free space in you internal memory and this using link2sd.
Requirement
Rooted device, without this you cannot use link2sd
Installed root explorer in you device, if you do not have one download it from here
Installed link2sd, download it from play store
How to
When you installing link2sd from play store, you must configure it. if you don't know how please follow this step :

you must have 2nd active partition, you can use ext2, ext3, ext4 and fat32 for filesystem.
if this you first time them link2sd will prompt you to create mount script, create it by selection you file system, if you create second partition with cwm then select ext4.


then click ok, your device will be reboot. if not reboot then please reboot manually
after reboot you will have link2sd active in you device.

What make link2sd cannot give more internal space rather than simple2ext is because link2sd does not move dalvik-cache to sdcard, you can see it with your root explorer, dalvik-cache is store in /data/dalvik-cache


95,28MB for dalvik-cache, our trick is move this dalvik-cache to sdcard, when you install link2sd it will create folder /data/sdext2 this folder is mount to your 2nd partition on your sdcard. when you open you link2sd and filter your linked application compare with folder /data/sdext2 you will know that all your link goes to /data/sdext2

now to give more space to your internal memory our mission is move all moveable dalvik-cache from /data/dalvik-cache to /data/sdext2/dalvik-cache. follow this below step :

Open root explorer and navigate to /data/dalvik-cache, pick one file with size more then 5Mb,

don't move dalvik-cache with first word

system@app
long press file that you wanna move until it show options menu, select move then navigate to /data/sdext2/dalvik-cache, paste it


after you paste it long press again on file in the /data/sdext2/dalvik-cache/ and select link to this file and press create link on /data/dalvik-cache/

if you done with this step i can say you already success moving and linking dalvik-cache to sdcard, if you feel you still need more internal storage then try move as much as you can.
you can link /data/data to /data/sdext2/data with the same way as above it you think that only move dalvik-cache is not enough.

Now open link2sd and filter it base on linked application, you will see a list of application that already you link it, in below picture i am link Photobucket, Translate, UberSocial, YouTube cause the have dalvik-cache bigger than 1MB

As you can see i still have free 46MB for internal storage, but i can make it more if i already done with this method, i must remind you after you link an application dalvik-cache try to run that application to see if it work or not.
Ok i think it finish, i hope this method can help get more free storage in your internal, remember

ALWAYS DO WITH YOUR OWN RISK, ROOT MANAGER CAN DELETE YOUR IMPORTANT SYSTEM FILE SO BE CAREFUL
Overview
About 2 weeks ago i am trying and installing
MIUI Gingerbread ROM
, I think this rom is great i like it setting view and it very smooth and light. But something i don't like about this ROM is you cannot use
Simple2Ext
by default. this ROM can use Link2SD i have confirm it. So after long time browsing and thinking why this ROM cannot use
Simple2Ext
whereas it can read ext4 filesystem. Finally i realized and found very useful tutorial and today i gone share it with you. but i must remember you
"DO THIS WITH YOUR OWN RISK"
Requirement
You need have at least one Ext3 / Ext4 active partition on your sdcard, if you don;t know how to create one read this article first on step 1.
Do this right after you installing MIUI Gingerbread ROM. that mean no other application has been install except system application.
Download 20userinit script and place it on your sdcard root for easy access
Capability to use adb shell command.
Advantage using Simple2Ext
You will get more internal memory, than Link2SD can give you
Group selection, no need to pick application one by one, wasting time
Disadvantage
Slower than Link2SD, need bigger class sdcard
How to
Just flashing MIUI Gingerbread ROM as usually
Don't install anything else, just install Simple2Ext from market. select Simple2Ext and try to activate mount sd-ext as ext4 without journaling




then reboot your devices.
After reboot go to Simple2Ext again and you will found that option Applications, Private Apps, Application Data and Dalvik Cache are disable just only Download Cache that are enable. This because your sdcard not mounting with /sdext.



Because of this problem MIUI cannot use Simple2Ext, MIUI has init.d support but not userinit.d support, to solve that we need to enable userinit.d support.
Now connect your phone to computer and use adb shell, type this command :
#mount -o rw,remount -t yaffs2 /dev/block/mtdblock3 /system - make /system become read write
#cp /mnt/sdcard/20userinit /system/etc/init.d/ - copy 20userinit to /system/etc/init.d/
#chmod 700 /system/etc/init.d/20userinit - change permission for owner
#reboot
After reboot run Simple2Ext again and try to configure your Simple2Ext, now you can pick what group you wanna move to /sdext.



Remember always reboot after turn on simple2ext setting.
Final Result, look how much your free internal memory :)

OK that how to Active Simple2Ext on
MIUI Gingerbread ROM
I hope this tutorial / article can help you solve your problem. Thank you for visiting and reading ...
Overview
Move an application

that is installed

into the

sd

card

is easy

, t
his will only
move the
apk
is installed
from the
internal
memory
to
the
sd
card. So it not really remove it application to sd card just only move the main program. if you wanna be more
extreme you can try
Simple2Ext

or
App2SD

DarkTremor

.
Requirement
Prefer OS Linux
How To
Install Android SDK / Extract Android SDK.

Run Android SDK. and begin downloading and installing needed packet.




Tools




Android SDK Tools

Android SDK Platform-Tools

Android 4.1 (API 16)




Documentation for Android SDK
SDK Platform
Samples for SDK
ARM EABI v7a System Image
Google APIs
Sources for Android SDK

Extras




Android Support Library

Google AdMob ads SDK

Google Analytics SDK

Google Cloud Messaging for Android Library

Google Play APK Expansion Library

Google Play Billing Library

Google Play Licensing Library

Google Web Driver

This is the list of package you must download and install.


That command list any device connect to your CPU, now your Samsung Galaxy Smartphone ready for develop
For enable moving applications to sd card type this,


adb shell pm setInstallLocation 2

Now if you intall application it will automatic install on your sc card.
For installed application that already install you can move it to sd card with setting , Applications, Manage Applications, click on application and select Move to SD card


Finish
NOTE :
Simple2Ext

or
App2SD

DarkTremor

can really empty your device memory but it need more
experienced user to do these two method. if you still new this tutorial can really help you.
hope you this tutorial can help you know your device.
Overview
This article is

taken from

xda

-developer,

about

how to use

the application

s2ext

(

simple2ext

)

in

ROM

ice cream

sandwich

(

CM

9.0)

.

Why

use

S2ext

?

because

app2sd

dark

tremor

can not work

in

CyanogenMod

9

.
CyanogenMod

one

advantage

over

the default

ROM

is

able to

use the

application

app2sd

.

app2sd

applications

can be said to

really help us

because with the

application

we

can

use as many

applications

without having to

think about

the capacity of

our

memory

.
Requirement
Rooted smartphone. if you flashing ICS ROM from galaxyics.com i bet your smartphone already rooted.

File Manager, cause root explore is getting force close at ICS ROM.
S2Ext for ICS ROM
How to
Open file manager, go to More -> Setting and tick / select Root Explorer and Mount System Folders

Unzip file S2Ext to your computer , go to folder system, app, copy / move s2e.apk to your sd card.
From s2ext unzip folder go to system, etc, int.d copy / move 20userinit to your sd card
So now you have 2 file s2e.apk and 20userinit in your sd card. Using file manager move /sdcard/s2e.apk to /system/app/
Using file manager move /sdcard/20userinit to /system/etc/init.d/ it will ask to replace the file, so just replace the file. if you don't wanna replace it just backup original file to sdcard using file manager.
reboot your phone, and you will sell S2Ext on your app drawer.
Configure it, if you don;t know how to do it just read this on step 2
I hope this tutorial can help you.....
thank you for reading it.
Samsung has announced that that every consumer that buys and registers a Galaxy S III smartphone will get free 50GB cloud storage from Dropbox.
The 50GB Dropbox storage is only available for a period of two-years. After that, you will have to opt for one of Dropbox's premium subscription plans if you intend to continue using the extra 48GB of storage space.
Since carriers have a say in whether or not phones are eligible for Samsung and Dropbox's little deal, both AT&T and Verizon have opted out of the fun bonus. Dropbox has since updated its official Support page to reflect that, "AT&T and Verizon are among these carriers not currently participating."
So
if you live in the United States or you using AT&T or Verizon. Sorry this is not for you.
To activate it Follow this little step :
Uninstall any dropbox on your device.

If you already have Dropbox installed on your Android device, you must Clear data, Force close and finally uninstall it from Settings > Applications > Manage Applications > Dropbox.

Download and install this dropbox apk (this install via recovery mode, so you must flash it)
Dropbox 1
Dropbox 2
Dropbox 3
Enjoy it while you can..... : ), i don;t have samsung galaxy SIII so i cannot show you the result on screen. but i took this article from
reliable source.
Overview
before you read and do this tutorial,"
DISCLAIMER: I AM NOT RESPONSIBLE IF YOU BRICK / RUIN YOUR PHONE IN ANY WAY.
"
"

Nandroid

backup"

maybe

we often

hear

the term

but

we

rarely

use it

or

rarely

see it

,

"

nandroid

backup"

is one of

the important features

provided by the

clockworkmod

recovery

(

CWM

)

.
the
Nandroid backup
is nothing but the duplicate copy of your phone. Just in case you are clear with ideas such as cloning or creation of ghost image of the computer hard drive, then this is just a similar operation like that. It is not just having the complete back up of your entire email and contact list, but at the same time having an entire copy of everything.
Requirement
Rooted phone, if you don't know how to root your phone visit here
Android phone with cwm installed, if you don't know how to install cwm for android phone CWM5.7 or CWM5.6
Battery with > 70% charge
Ext2, Ext3, or Ext4 file system, if you still use stock rom with rfs file system you can back up it but when you restore, it will make your phone blootloop.
Making Backup
Making the nandroid backup is easy as flip your hand, so this is the step :
Reboot your phone to recovery mode, by press home button / middle button while you press power button.
Use volume up and down to navigate, and use home button / middle button to enter.
Select Backup and Restore
Select Backup
Wait until backup process done
You can find the backup result at your sd card, /sdcard/clockworkmod/backup/
Finish, you can move your backup to computer or just leave it there.
Restoring Backup
Restoring backup is just easy as backup process, but sometime this process can make your phone become boot loop (error can't booting perfectly), if this happen that because your still use default ROM or your filesystem is still rfs. Ok now we continued for the step :
Reboot your phone to recovery mode, by press home button / middle button while you press power button.
Use volume up and down to navigate, and use home button / middle button to enter.
Select Backup and Restore
Select Restore or Advanced Restore, if you don't wanna restore it all
Select Restoring File from the list. ie 2012-06-03.08.01
Wait until restore process done
Finish, If not error and you can boot to your home screen then, congratulations !! You has just successful restoring your phone.
Issues
If you still in stock ROM or using rfs filesystem you will make your phone boot loop when do restoring process.
After 2 weeks installing and using CyanogenMod-7.2-20120326-NIGHTLY-gio, i am feel missing with memo application by samsung. so i find on internet how installing stock memo on my galaxy GIO who has already flashed with CyanogenMod-7.2-20120326-NIGHTLY-gio.

I will show you SS, to prove that i already install it on CM 7.2

My System Memo Application



Memo Shortcut on Drawer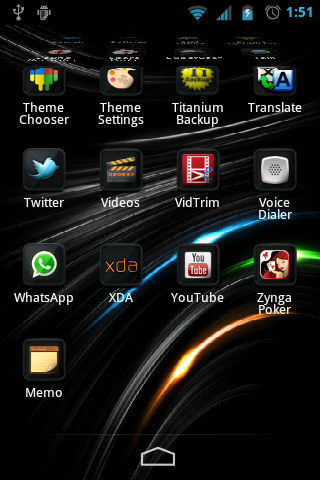 How to :
1. Your HH must be on root and have
root explorer
installed.
2. Download
memo.apk
and place it to you sdcard, in fact i have task manager.apk but i don't install it cause i don't need it thought CM 7.2 don't have task manager.
3. Open root explorer, move / copy memo.apk to
/system/app
4. set permission like picture below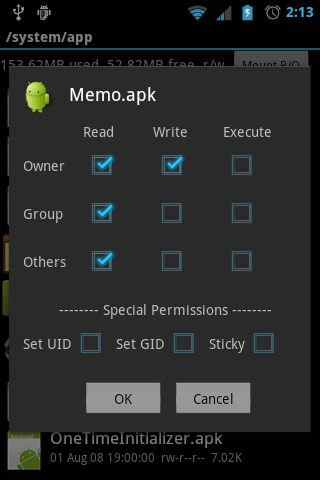 5. Done, back to drawer, if memo shortcut not show you must be restart your HH
This tutorial already tested and verified by me on my Galaxy Gio (S5660) so if your galaxy Ace, Mini, etc not work then this tutorial not suitable for your HH, Thank hope this tutorial can help you
*BEWARE USING ROOT EXPLORER YOU CAN

ACCIDENTALLY DELETE YOUR SYSTEM FILE AND MAKE YOUR HH BROKE, SO BE CAREFUL
Today i browse to XDA forum and accident found a way to add samsung keyboard to CM installation.
I try it on my Galaxy Gio (GT-S5660) with CM-7.2-20120326-NIGHTLY-GIO installed and it work,
but there is weakness, the letter in the tut is not so bright (you can see in picture) except that everything is work perfect.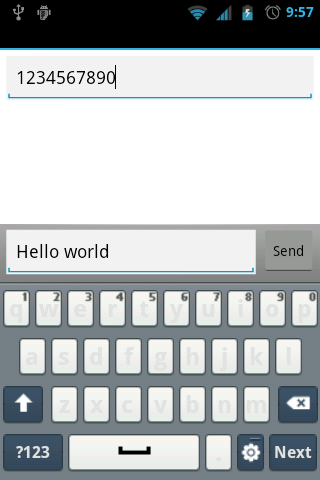 Now i can show you how to install it :
1. Your HH must be rooted, install this
root explorer
2. Download material :
4. Extract and move T9DB.7z to you HH, folder must be same name. T9DB
5. Open root explorer, copy touchwiz.xml to
/system/etc/permission
6. copy libxt9core.so and libdhwr.so to
/system/lib
7. copy AXTT9IME to
/system/app
8. copy T9DB folder to
/system/
9. set permission for all file that you copy like picture below.
10. Reboot your device so Samsung keyboard can active.
11. On CM-7.2-20120326-NIGHTLY-GIO there is no setting for keyboard you wanna choose, so if you need to change you must go to messaging and press and hold setting on keyboard. it will pop up keyboard choice.
NOTE:
BEWARE WHEN YOU USING ROOT EXPLORER YOU CAN DELETE A SYSTEM FILE WITH IT, SO BE CAREFUL
Android have a magnificent function that make it different from another OS, it a cloud contact storage
in indonesia we used to save our contact on phone memory, i say it old fashion, now how if we use google sync facility so if you wanna change your phone, or flash your phone you don't confused about your contacts.

Ok now i will show you how to move your contact from phone to google address books.
How To :
1. Export your contact become .vcf file.


2. Delete all of your contacts, after export of course. if you suing CM 7.2 and use ICS theme like me you will not found delete all button so you need some 3rd application download and install it,
delete all
3. Unsync another service, like yahoo, facebook, what app, etc everything that contain contacts. so you just delete contacts that store in your phone memory.
4. Back to your contact screen, select menu --> select import from SD card
5. Select gmail on create contact under account
6. Select *.vcf file that you wanna.
7. wait until process finish.
8. first you will see, your contact still empty. that because you need to sync gmail account that you unsync on step 3. now sync everything (facebook, yahoo, etc)
9. Finish, enjoy now you will not confused about your contact cause it will storage at google
if you open your gmail account and not yet found one contact exported then on your smartphone you must sync it.
Setting --> Account & Sync --> Gmail sync
after few minutes look again on your gmail contacts
This time i will share how to make your android facebook application send you notifier:

1. your facebook application must be installed on device memory.
2. borrow from your friend a blackberry and log in to facebook with your account, another way if you have no friend i will give you another way.
3. download this and install to your cpu, BlackBerry Device
4. log in to facebook application on that blackberry
5. wait untill all news feed finish to load.
6. sign out from there
7. login to your facebook application on android
8. go to your facebook setting
9. change refresh interval to never
10. pick notifications must be active
11. test it, ask your friend to post and your wall and wallah your device will notifier you.

This already test with my samsung galaxy GT-S5660 and it work till now i still got facebook notifier